Kevin Jones of KJA Agency tells his story about how he went from being an artist to managing more than 500 artists. Anyone wanting to explore more can purchase tickets to the Digital Assets and Web3 Garden Party on Thursday 23rd June, London – visit website here
Backstory …
Kevin's story is fascinating – moving from artist, and acclaimed illustrator to manager of some 500 plus artists happened almost by accident. It wasn't something that Kevin Jones planned but sometime in the middle of his 30 year plus career he realised he was managing other artists rather than creating himself. In a career dedicated to art this wasn't such a bad thing he decided and carried on to create one of the top illustration and animation agencies in the UK: the KJA Artists Agency.
His own career holds many plaudits. Back in the 1980s he was commissioned to illustrate the cover of the controversial spy novel, SpyCatcher written by Peter Wright, ex MI5 officer, which had to be published in Australia rather than the UK where it was banned by the British Government. The book went on to sell millions of copies making Wright a millionaire and Jones' work one of the most viewed covers at the time. He was also responsible for the redesign and illustration of the Batman imagery for the relaunched Tim Burton films. Under the direction of Anton Furst, the production designer, Jones illustrated the now iconic modern Batman logos. Furst went on to win an Academy Award for overseeing the new film designs and Jones had the pleasure of seeing people mob bus shelters to break the glass of advertising signage and steal the Batman posters with his logo.
Closer to home and more recently, his young son was playing Rocket League, a video game, which offered up the Batmobile car with Jones' logo as an asset to buy. "Possibly one of my most proud moments when my son realised, I created that logo," says Jones.
Sadly, these successes also included the signing away of IP of the designs.
"Otherwise, I might be now extremely wealthy. However, I was well paid back in the day, so I don't really have any regrets. It also helped that I was a huge Batman fan from the '60s."
Jones has only ever worked in art and illustration. "I think it's because I couldn't do anything else. The change from sitting in front of a drawing board – because that was before PCs – to project managing many talented people was hard to give up but also the right decision."
It helps that Jones has an eclectic taste in art and is always on the lookout for new talent.
"I naturally like new, bright, shiny things. I like modern work and I love colour and vibrancy. I am, as it happens, very well suited to being a curator and agent and I love my job."
While Jones doesn't really like to pick favourite artists, he mentions the late Edward Hopper and his 1942 'Night Hawkes' painting.
"I fell in love with that painting the first time I saw it – the dark brooding lighting and voyeurism really spoke to me."
Another artist, living this time, Chris Offili and his use of lacquered elephant dung in his art, really appealed to Jones. "It was just so unusual in the UK at that time and I guess that is what appealed. Often artists have to do crazy things to get noticed."
For Kevin, art is important in that it reflects the culture at that time. He sees it as a time capsule.
"Art can have a profound impact on businesses and the economy. Overall, art has the power to enrich culture, contribute to business success, and enhance brand perception by fostering creativity, emotional connections, and a sense of aesthetic appreciation."
Moving over to digital art and NFTs, Jones points out that his introduction to blockchain and cryptocurrencies had a somewhat jaundiced start. His company was attacked by the Wanna Cry virus in 2017 which scrambled more than 40,000 images on the KJA artists site.
"The malware operator was asking for a ransom in Bitcoin – which I had never heard of and didn't pay. And it took us a years to recover."
The entry of NFTs was far less frictioned with some of his more recent clients asking him about creating the art for their NFTs.
"But they only wanted to pay a few Dollars each for the artwork so that wouldn't work. They also missed out on the fact that they really needed to build a community – otherwise nothing would sell."
Instead, Jones headed off on a discovery journey to find out how they could help his artists directly both in the generation and curation of collections – as well as the sales. It has taken the guts of a year, but he is now in a position to announce his own NFT launchpad and a pipeline of artists about to launch their own NFT collections..
"It's all about our experience of working directly with our artists and understanding their strengths. We want to raise the bar from the more frivolous and cheap digital art. We want to bring meaningful and beautifully executed art to the world of NFTs."
The first artist to be featured on WhiteLightNFT.io, the launchpad created by Jones, is Guy Stauber who has been with KJA Artists for many years. Stauber has an amazing repertoire of art and has worked with giants such as Disney (Star Wars, Lucas Film, Avengers, Mandalorian, Black Panther etc), Fox and The Wall Street Journal. His collection is called the Digital Punk NFT collection and there is a total of only 999 NFTs.
"I call it a fusion of Sex Pistols swagger meeting Tokyo Futurism."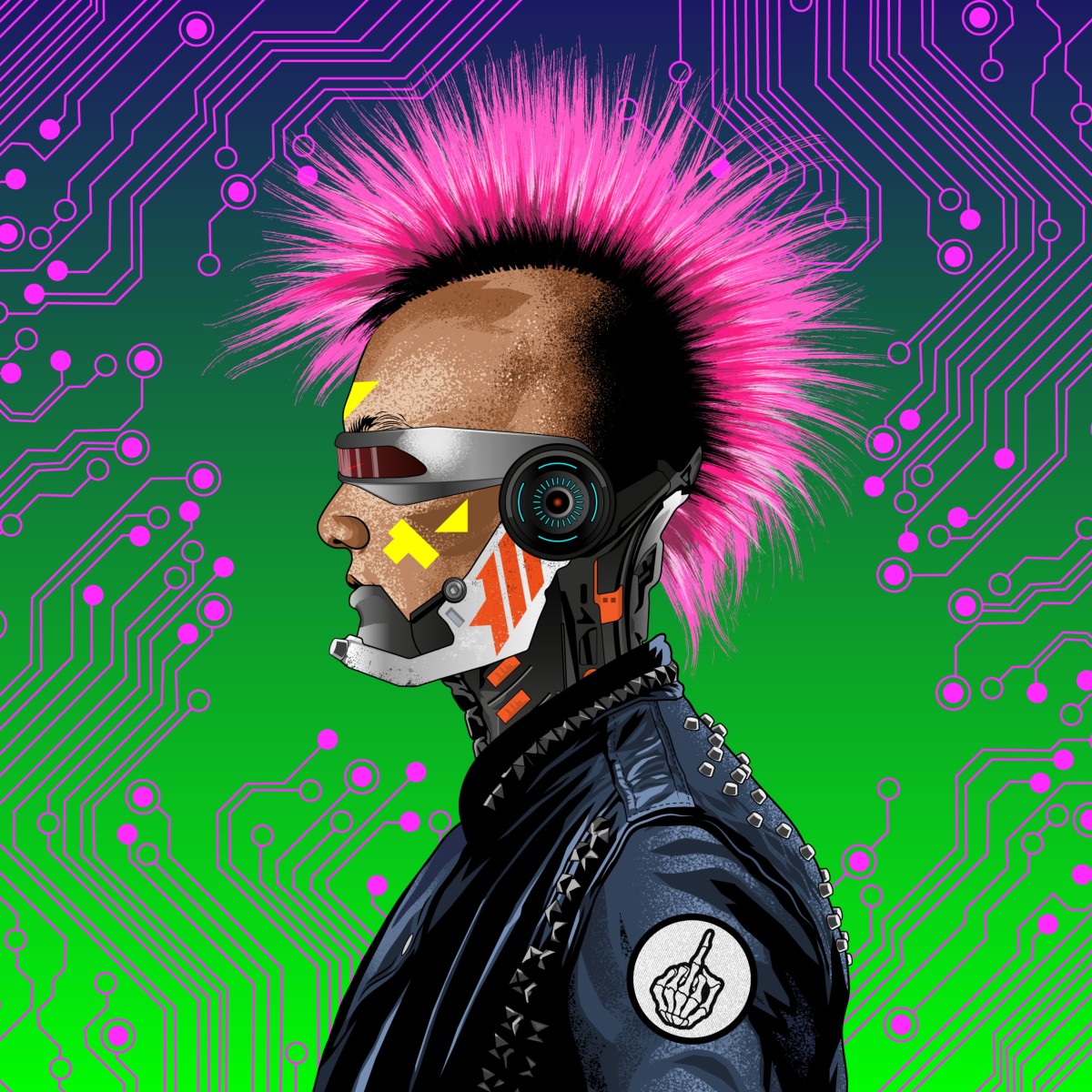 For Jones this launch is only the beginning.
"The attraction and use of NFTs is unfolding daily. Ultimately, I see NFTS as a means to authenticate anything physical. The digital will validate the analogue. In time, I think NFTs as art and collectibles will involve more sophisticated platforms, enhanced digital experiences, increased integration with virtual reality and augmented reality technologies."
Jones also sees a future role of NFTs to tokenise real-world assets.
"NFTs can facilitate the tokenisation of real-world assets such as real estate, art pieces, and luxury goods. It could enable fractional ownership for people who couldn't otherwise afford it. In fact, the potential applications and impact of NFTs are vast, and we can expect continued innovation and exploration in this space. It's a cliché to say but the only limit to NFTs is our imagination."
For more information, please visit