Sean Rach, co founder of hi.com in conversation with Liberland Press editor, Jillian Godsil
Two years ago, Sean Rach was speaking from his serviced offices in Hong Kong about an idea he had to bring easy-to-use cryptocurrency to the masses. Lots of ideas were flown with ease-of-use dominating the conversation.
Initially, Hi.com was looking to grow customers without anyone having to download an app. The founders looked at the Telegram platform, preferred by Web3 aficionados, and employed gamification techniques especially with regard to referrals.
"What if a user on the Telegram channel could come on and say 'hi' to a bot and we would give them tokens – would they do this every day?" Rach remembers. He stresses it had to be easy. Users would open accounts and then just interact in Telegram. The rewards were building up in their accounts – which over time made them valuable – and at that point to extract the value the customer had to complete KYC.
By November 2021, the member numbers had grown organically to 2 million (today there are more than 3.5 million). There was traction and Rach and his team gambled on releasing an app.
"We didn't have to chase people at this stage and in a short period we had more than 2 million downloads, and nearly 1 million of those were KYC'ed."
Rach stresses that they were not just in the business of building a wallet. "We concentrated on Europe where IBANs allow for the easy transfer of fiat money. We partnered with a licensed bank and we are growing a platform where all the best features of both crypto and fiat are available on the same platform."
One of the hardest challenges for online financial platforms is to provide a debit card, as opposed to a prepaid card. Rach points to the achievement that Hi.com can offer a true debit card that is tied to the wallet and can use a range of different tokens or stablecoins as the user balance.
"You can select what is the reserve balance and we look after the conversion. This makes it so much easier on users who no longer have to go off and convert their tokens via an exchange and move the money to a wallet or card to make it spendable. This all happens within the app.
"We brought this crazy idea to Mastercard and they loved it. We went one step further – we allow users to personalize their hi.com debit cards using NFTs that are certified to belong to the user."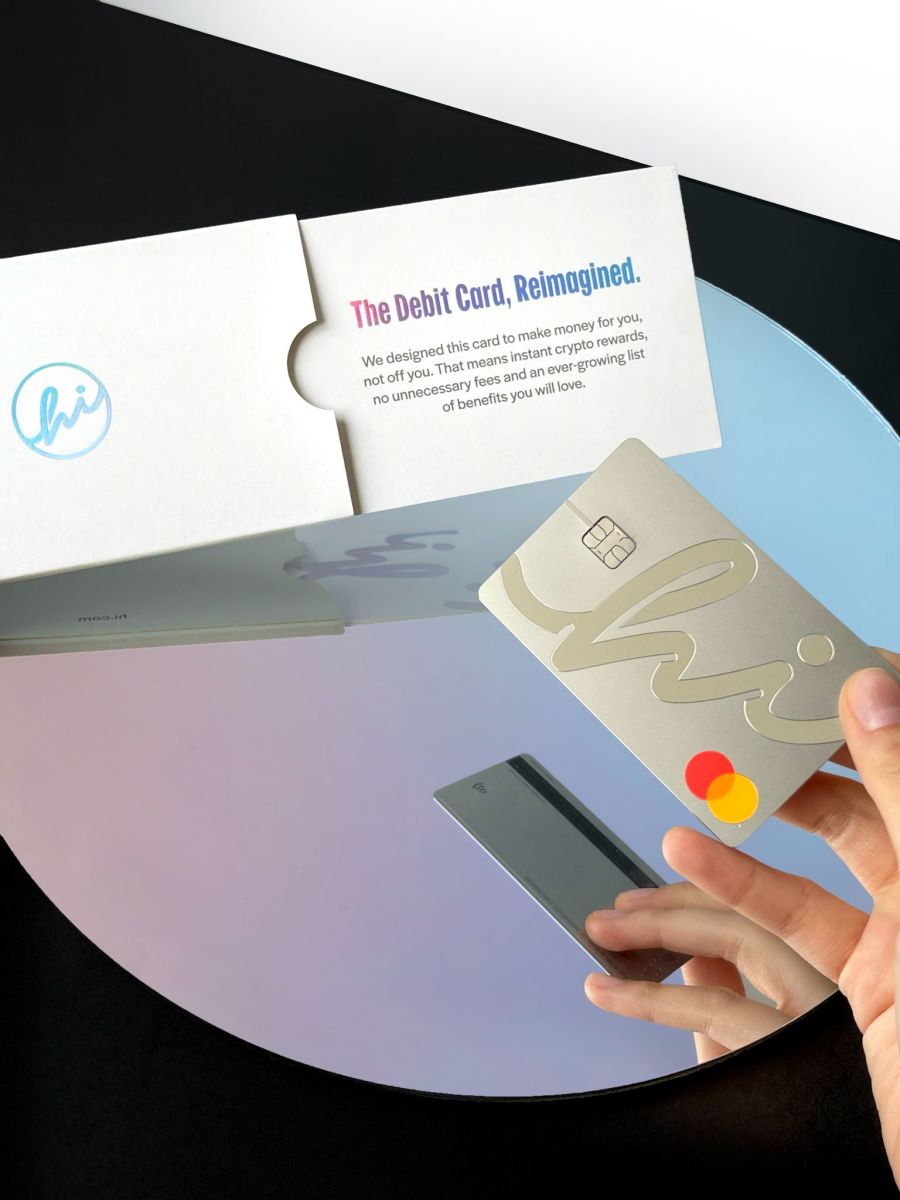 It was this move that led them to Animoca Brands. Rach and Yat Siu already knew each other as both were based in Hong Kong. Today Animoca Brands has a huge ecosystem with popular games and communities. Part of the investment programme allows for Animoca Brands to list popular tokens from its ecosystem on the app, and allows the community to spend their tokens such as SAND or APE easily.
"We've come a long way," says Rach. "We now consider the hi app a Web3, Crypto Neo Bank – it's online, includes crypto and NFTs."
Partnering with Animoca Brands is a huge step for hi.com. "Yat Siu and Animoca Brands have carved out a really impressive reach and ecosystem in this space, especially in the gaming and NFT space. The equity investment is important but even more is their experience and ecosystem while we can provide utility for their communities and tokens."
This is the first big equity play for hi.com. Up until that point, the company had been bootstrapped and then participating in a select token sale with a number of institutional investors.
"This is our first partner," says Rach. "The funds will be focused on product development and we have lots of core features coming down the tracks."
One upcoming feature is a Buy Now Pay Later function, only in hi.com it's called Buy Now, Convert Later.
"A user, who might be a hodler, believes bitcoin will still increase in value, so they use their asset to buy now and we basically offer them a line of credit for a small fee. In turn, they can convert their bitcoin later on, and if they are right, they've increased the value of the asset while still having purchased the item previously."
hi.com also has plans to offer financial services to small and medium sized businesses through a series of partners.
The official overview of the partnership, and it is still in MOU and subject to agreement on definitive terms, is that Animoca Brands will invest US$30 million in Hi.com and collaborate on a number of exciting initiatives. The two companies' shared vision aims to amplify the utility of fungible tokens and NFTs within the Web3 space. The partnership is expected to lead to deep integration between Animoca Brands' ecosystem and hi's innovative services that are driving Web3 mass adoption. With a strong focus on boosting the hi ecosystem, anchored by the hi App – a cutting-edge financial super app for Web3 – and the hi Protocol (hiP) – a scalable, EVM compatible, Sybil-resistant layer-2 sidechain for Ethereum – the two companies will work to provide developers with a unique-human authentication mechanism through hiP's groundbreaking Proof of Human Identity (PoHI) solution.
Yat Siu, the co-founder and executive chairman of Animoca Brands, said: "We are looking forward to investing in and partnering with hi, which is committed to bridging the gap between the fiat and cryptocurrency worlds. As part of this partnership, we will collaborate with hi on its continued development of the hi App and the hi Protocol to drive positive impact for the broader Web3 ecosystem."