by Evgen Verzun, co founder of Kaizen.Finance
If you ever feel useless, think about the guy or girl that writes terms and conditions.
Nobody in the adequate state of mind would think about reading anything like that… right? Well, even though 99.9% of the world's population would toss the ToS to the side, there are dozens of us who will go through all that legalese trouble to be in that 0.1 percentile.
Enter the madlad/ladette from Reddit who did the unthinkable and read the terms of service from all the major crypto exchanges so you guys wouldn't have to. Not all heroes wear capes, and today I'd like to highlight his/her work, while adding some of my thoughts on the matter.
It will be an eye opening experience for some of you, I can guarantee that.
Why Would Someone Read The Terms of Service?
Terms of Service, eh? Nobody has time for them.
Can't even click 'Accept', you can only agree with them and hope that nothing bad will ever happen to you or your assets when we're talking about exchanges. Well boo-hoo, because it appears that in some cases customer assets do not actually belong to them. Oh, it's true!
Celsius 'Earn' assets belong to a bankrupt crypto lender, for example. The judge read the ToS papers from Celsius which clearly stated that Celsius took possession of crypto assets deposited into its Earn product.
Suffice to say, that line in the document dealt a blow to the hopes of customers who planned to recoup funds from the company. Celsius held around $4.2 billion in various cryptocurrencies in its 'Earn' product, with $23 million of that being in stablecoins.
This little incident motivated the researcher to look into insurance and the ownership of assets specifically.
You Won't Like What's Coming Next!
The situation is 'bowling shoe ugly', one could say.
In the year of our Lord 2023 we have a buttload of crypto exchanges, most of which have millions of users and a gazillion of funds. Binance, Kraken, Coinbase, Crypto.com, OKX, MEXC, Gate.io, Huobi, Nexo, ByBit… We also had the fallen Mt. Gox and FTX that were subjected to a post mortem study of terms.
From the aforementioned list, only three exchanges clearly state that the assets are yours, and only two exchanges provide some semblance of insurance. The overlap of those 'perks' happens only on one occasion. Can you guess who are some of the good guys without looking into the cheat sheet? I'll give you a minute to make your bets. Gamble responsibly… Ready?
Three companies that respect your ownership of assets on paper are: Coinbase, Kraken, and I shit you not, FTX. This is awkwardly funny. When it comes to insurance, Coinbase specifies that user assets are insured by up to $250,000, as long as they're in USD format within your wallet.
Crypto.com states that insurance only comes in motion for unauthorized transactions limited to $250,000. Quarter of a mil is a magical number for exchanges, it seems. Even then, clients have to open a request and submit proof, and the exchange reserves the right to determine whether a transaction was unauthorized or not. Plus Crypto.com exempt themselves from paying you if the services are closed for any reason whatsoever.
So even with insurance, you could be S.O.L.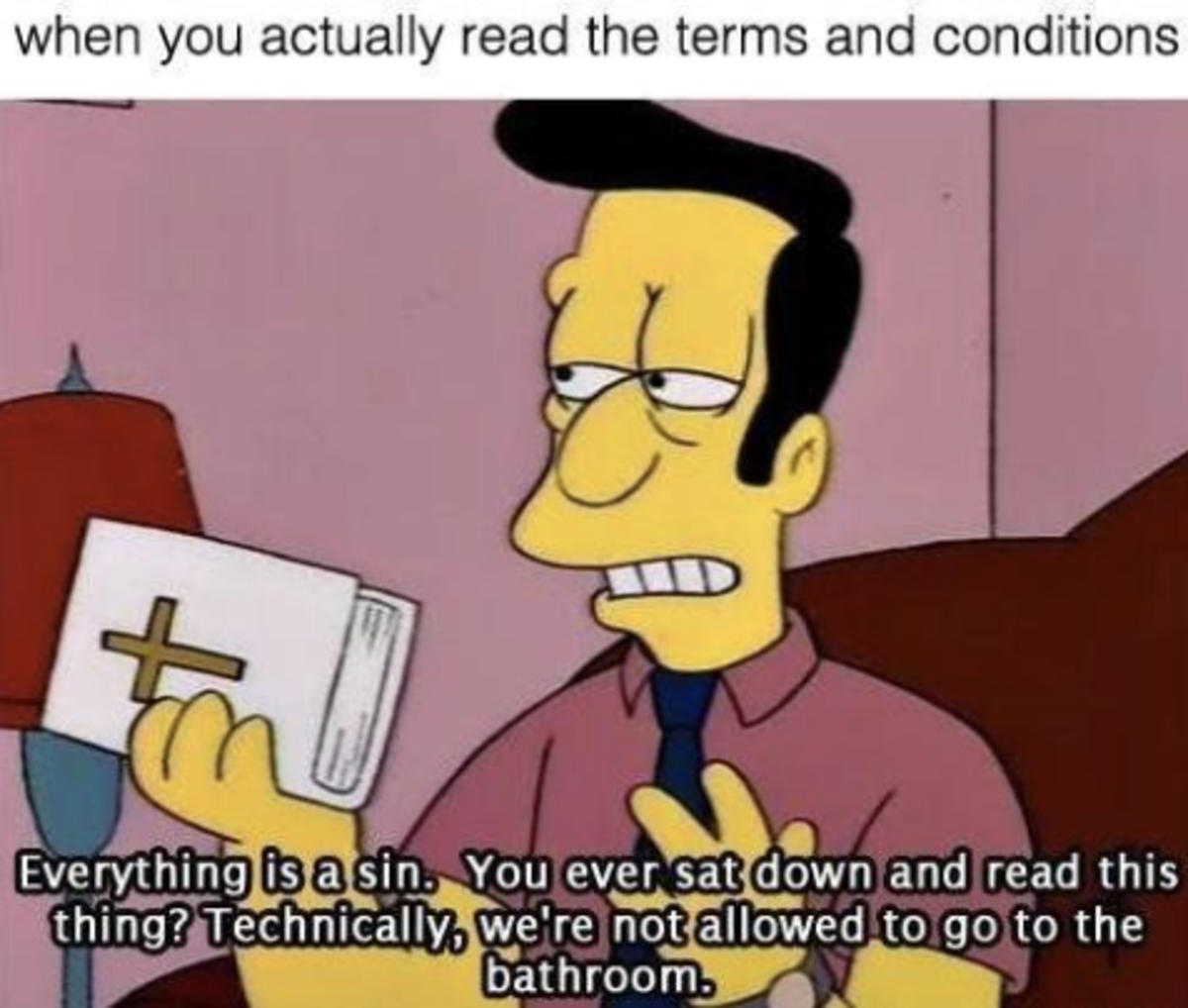 They Have No Shame, And That's OK
The situation is dire, absolutely, but this should not shock us as much as it does.
Biggest crypto exchanges in the world have no care for your financial stability, they write those Terms of Services to protect their own backside in court. Think about it the next time you're logging in to make a deposit.
But wait, who's the main villain? We need a scapegoat. Is it Binance, the market leader who claims that they have no obligation towards us when we're using their services? The company that spams you with 'gain 10x on your investment' emails even though it asks not to treat any of their communication as financial advice? Nope.
That's not the worst offense, sadly. Enter OKX!
Are you ready for some 'irreconcilable shortfall', sunshine?
When the OKX Platform is unable to operate properly and the user is unable to access the Services or place or cancel an order, they assume no liability for damages.
On the ownership side, even if the assets are considered to be in your name, you're not entitled to anything in the case of a default insolvency. OKX reserves the right to register your funds in either their or a custodian's name. That sounds fun!
Then again, what could we expect? Some of us who have been in crypto since Mt. Gox might know that the infamous fallen giant had no ToS whatsoever and was 'protected by Norton'.
This is the reality that we live in, folks. Exchanges can change their terms anytime, so it is not a place where your funds would ever be safe. Use exchanges as exchanges, buy a cold wallet and move your funds there when possible.
All the crypto heads know the phrase 'Not your keys, not your crypto', but they still think that their exchange of choice is too big to fail. Nobody is! Be sensible, do not put too much faith in companies that write black on white that they don't own you a thing.
Speaking of those colors, you might like my blog post about pessimism and optimism in crypto. See you there!